Increased customer engagement pays off
A customer who is reminded of the value you deliver at the moment of payment is more likely to remain a loyal customer.
The Value of Payments
When a customer pays a bill, they instinctively evaluate their supplier. Because of this, engaging your customers at the moment of payment creates a valuable opportunity to deliver a positive experience.
The Majority of Customer Contact
The payment is one of few occasions when a customer's attention is guaranteed. In a survey by Novus, 76% of electricity, telecom, and broadband customers stated that the invoice is the only regular contact they have with their supplier.
Turning Negatives into Positives
Billogram minimizes the risk of mistakes, and avoids the common misunderstandings that bill paying often involves. Beyond making bill paying easier, it allows companies to transform the payment into a positive customer experience, where relevant information and personalized offers can be shared. These features lead to increased revenue and reduced churn.
More Communication
Billogram's interactive web invoice offers a new channel for direct customer communication. Each invoice includes a messaging feature, where invoicers can include pre-populated messages. The end-customer can respond directly from the invoice, and bring up their own questions or issues.
Clarity and Transparency
Billogram's web invoice is updated in real time, and changes are recorded in the messaging feature. Both invoicers and their end-customers can see when a bill has been opened, the invoice amount, and whether it has been paid. Both parties can also see if any changes have been made, when reminders were sent out, and if an overdue payment has been sent to debt collection.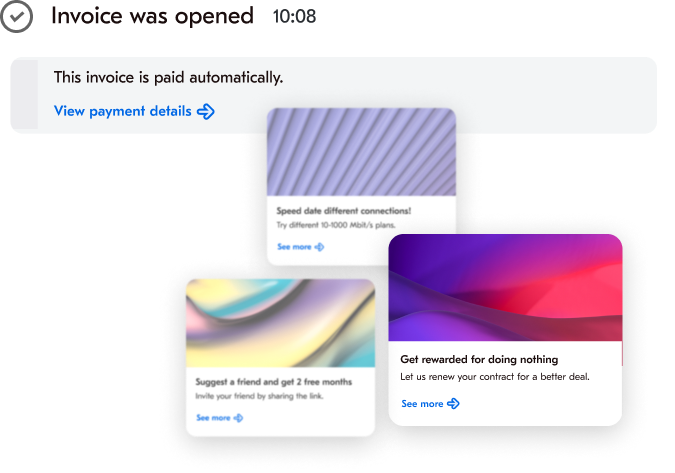 Personalized Offers
In addition to the messaging feature, every Billogram invoice comes with the ability to add eye-catching communication and offers to the invoice overview. In this section, customers can take advantage of their offers directly from the invoice, or be redirected to an external site, such as the 'My Pages' section of your company's website.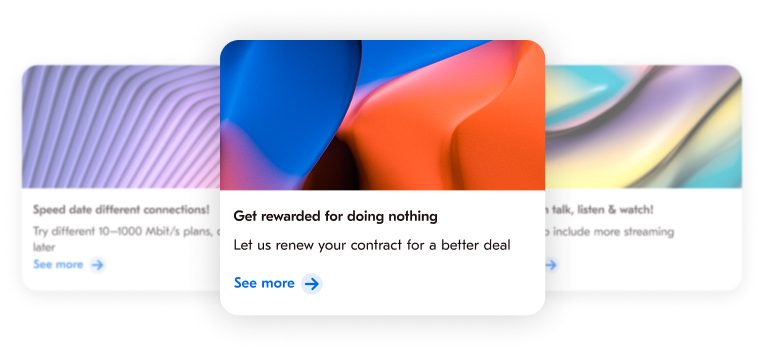 Unlimited Opportunity
The ability to present personalized offers on each invoice holds endless potential. It is an optimal way to present interesting information, special offers, service updates or customer surveys. The advantage to using this channel is that your invoice is pretty much guaranteed to hold your customers' attention, without any additional costs.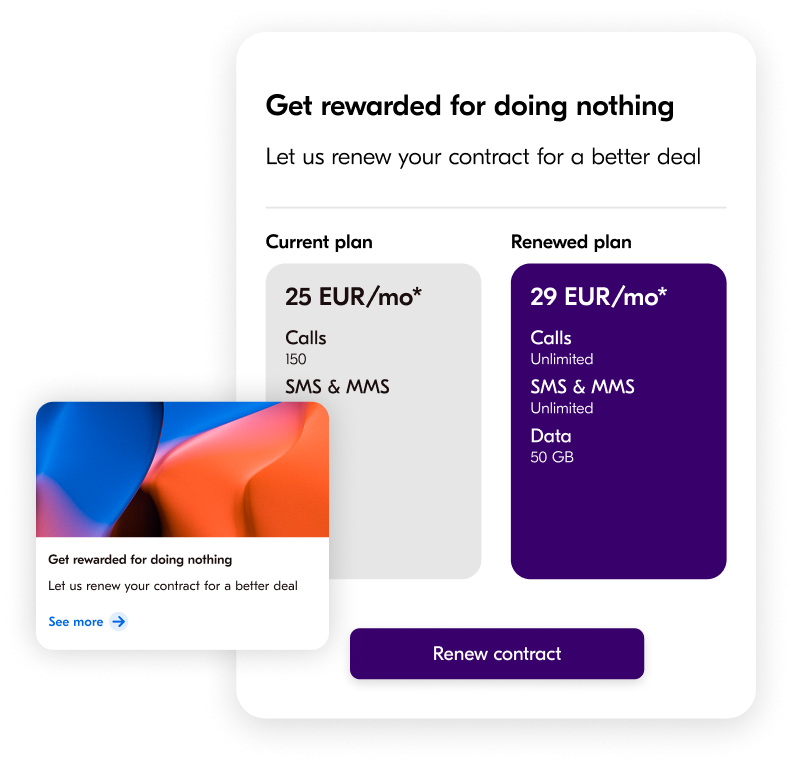 More Valuable Payments
By making customer communication available right from the invoice, Billogram has opened a new door to customer engagement. But this is only the beginning. By treating each payment as part of a customer journey, improved communication adds real value to the invoice, improving customer loyalty over time.
Robin
New customer
Alex
Customer for one year
Kim
Loyal customer
September
The first payment welcomes the customer and offers information on how to get the best possible Wi-Fi with their new router.
October
The engagement module is used to announce planned maintenance work to our customer, as they reside in the affected area.
November
With nothing relevant to communicate, the engagement module is removed.
September
The engagement module is used to present an NPS survey, which measures how satisfied the customer is with the product/service.
October
A high NPS score allows the company to offer their customer additional relevant products/services at a favorable price.
November
The customer misses their payment for the first time. Because it is not a repeat problem, they are sent a reminder without any late fee.
September
The provider shares their new marketing campaign at the time of payment since they have their customer's attention naturally here.
October
At the time of payment, the customer is presented with data on their usage and is offered the option to upgrade or downgrade their plan/package.
November
The support team follows up on a malfunctioning router to ensure it works, but also sends an NPS survey regarding how the case has been handled.
Reach out to our sales team for a demo or a quote.
Curious about what Billogram's invoicing solution can do for you and your customers?